The Clean Energy Ministerial (CEM) is an international clean energy platform whose country membership presently accounts for 90% of global renewable energy production and 80% of investments in the field. This July, CEM convened in Goa, India, for its 14th Clean Energy Ministerial and 8th Mission Innovation (CEM14/ MI-8) meeting, which was attended by numerous government and industry officials from around the world, including Anglo-Eastern CEO Bjorn Hojgaard.
Amongst the many discussions, CEM agreed to adopt the Clean Energy Marine Hubs (CEM-Hubs) initiative – an important step towards decarbonising the world economy and global shipping industry. First proposed a year ago by five member states, alongside the International Chamber of Shipping (ICS) and International Association of Ports and Harbors (IAPH), CEM-Hubs is a public-private platform that aims to reduce the risks of investing in the infrastructure and global value chain necessary for the production and transportation of alternative fuels.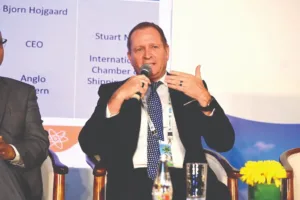 "While much has been explored and discussed about the environmental and technical aspects of alternative fuels, one key area has received less attention: the logistics of alternative fuels. No solution can stand on its own without the necessary infrastructure to support it, which CEM-Hubs is addressing," said Mr Hojgaard in a statement that rings true.
In order to accommodate expected demand, roughly 50% of all alternative fuels will need to be transported by sea, yet the production centres, vessels, and port infrastructure required for this do not currently exist. Adding to the complexity of the situation is the dual role played by ships in the adoption of alternative fuels. In addition to being essential for transporting them, the decarbonisation of the industry also means that vessels themselves will be consuming large quantities of these fuels.
As part of the ICS taskforce on the proposal, Mr Hojgaard was invited as a panellist for the CEM-Hubs initiative's breakout session, where he spoke about the biggest logistical challenges in relation to alternative fuels. "The world needs three orders of magnitude more energy than what Europe produces through offshore wind today," he said, in reference to the amount of renewable energy required to produce alternative fuels cleanly.
He also discussed the challenges posed by alternative fuels on the human element at sea, noting that around a million seafarers will need to be trained and upskilled within the next decade on how to safely work with alternative fuels, which have different safety requirements and work with engines that few seafarers are experienced with.
Initially, CEM-Hubs will primarily focus on facilitating knowledge exchange between industry members, sharing information on clean energy policies, projects, and best practices in order to reduce the costs and improve the quality of new infrastructure. CEMHubs also encourages moving away from conventional silo planning to the co-location of clean fuel production near or within ports instead, thereby consolidating storage, minimising logistics, enhancing efficiencies, and reducing costs and investment risk.