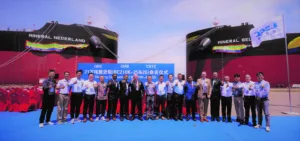 Anglo-Eastern Technical Services (AETS) has successfully delivered 11 ships this year, and currently has 59 more under its newbuilding supervision. With the potential of adding another ten units to its portfolio within the year, AETS continues to maintain a formidable newbuilding order book.
While the design of all these ships comply with the NOx Tier III requirements, 85% will have an overall emission outlook better than EEDI Phase 3. What makes the newbuilding programme unique is that the design concepts of over half of the vessels under construction were co-developed in-house in conjunction with partner Compagnie Maritime Belge (CMB).
Optimisation of hull form has reached its maximum limits. The tendency for shipyards to narrow down the stern to improve water flow into the propeller is resulting in smaller engine rooms that reduce maintenance areas. The current trend of adjusting engine ratings to achieve EEDI Phase 3 levels increases the risk of higher CII ratings of vessels in service, and shipyards often tend to compromise on the propeller light running margin, resulting in acceleration issues.
Given the maturity of the field, a lot of thought must go into developing a ship design that maintains the right balance between performance and flexibility to meet future requirements. Achieving the current EEDI Phase 3 requirements may not be that difficult, but local emission control measures like EU ETS and FuelEU Maritime will progressively bring into force more stringent requirements. The shift away from fossil fuels will only continue to gain traction.
Ships are expensive, long-term assets. To avoid increasing operating costs, depreciating asset value, and possible restrictions on their areas of trade, their design must keep the above factors in mind. At AETS, such considerations drive the designs and projects it undertakes, with several newbuilds under AETS supervision being dual-fuel designs (LPG, LNG, hydrogen, methanol, ammonia) and the remaining vast majority being dualfuel retrofit-ready, with set target dates for conversion to the chosen alternative fuel.
In the case of dual-fuel retrofitready projects, we ensure substantial preparation is undertaken, inclusive of finishing all under-deck structural work. This will greatly reduce the cost and time of the actual retrofit work later on, the lay-up time for which we estimate to be similar to retrofitting a conventional scrubber.
AETS has collaborated with CMB in co-designing several ammoniaready dual-fuel vessels, including developing the fuel supply system with the selected vendor. Reflecting its first-mover aspiration, CMB is actively engaging with WinGD in its ammonia engine development programme through an exclusive undertaking. Thus, the most exiting ships in our newbuilding programme are the ones that will launch as fully fitted to run on ammonia.
The safe handling, storage, and bunkering of ammonia have been prioritised in the design of these ships and their ammonia fuel systems, resulting in high safety margins that take into account the fact crew with no prior experience in handling gas systems will be operating them. Such zero-emission vessels (ZEVs) of the future will ensure protection of the marine environment and avoid the unintended accumulation of explosive, flammable or toxic gas concentrations, as well as the possibility of toxic gas leaks or venting from the ship.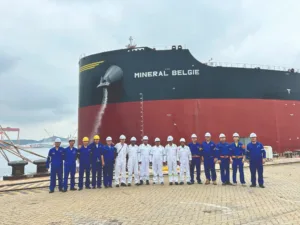 AETS and CMB started working on ammonia ship designs a few years ago, with MV Mineral Belgie and MV Mineral Nederland being the first of a series of ships under construction at QBIC shipyard in China. These 210,000-dwt bulk carriers, delivered this July, comply with EEDI Phase 3 and NOx Tier III requirements. They have shaft generators and other energy-saving designs to notably reduce fuel consumption. These two milestone deliveries are special not only for their performance efficiency, but for how they also served as a turning point in the overall project.
Soon after the steel cutting of these two vessels in 2022, CMB decided to take the ammonia-ready option, requiring substantial design changes that would increase the complexity of constructing the subsequent ships in the series. Thus, even without the structural modifications required for a future retrofit, Mineral Belgie and Mineral Nederland have set the tone, not to mention the start of an incredible decarbonisation journey!
The following ships of the series will either be ammonia dual-fuel retrofit-ready or delivered fully fitted ammonia dual-fuel ships. Once these vessels take to the ocean, they will make maritime history as the first ZEVs of their kind – proudly supervised by AETS, owned by CMB, and managed by Anglo-Eastern.
It is exciting to see such shifts in propulsion technology, and even more exhilarating to be leading the change. Shipping still has a long way to go on its journey to decarbonisation, but the pace and development of new designs and innovations is picking up, paving the way for exciting times ahead, which we are determined to be at the forefront of!
EMERGENCY RESPONSE – DRILL TIME!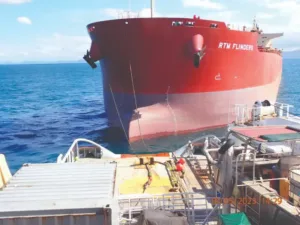 Preparedness and effective coordination are crucial to ensuring the smooth, safe execution of emergency response procedures, and drills play a key role in their maintenance.
After departing Gladstone in Queensland, Australia, MV RTM Flinders had the opportunity to participate in one such exercise on May 18th: an emergency towing drill with the emergency tow vessel (ETV) Coral Knight, which serves the Great Barrier Reef and Torres Strait.
A joint briefing on the drill objectives, parameters, and safety protocols was held, followed by safety gear and equipment checks. Once complete, it was time for the drill, which aimed to simulate a "dead ship" scenario in which RTM Flinders' main propulsion system is inoperative.
The ETV pulled up in front of the bulk carrier, maintaining a safe distance, then passed a heaving line so that the towline could be pulled across. Once connected, tension was gradually applied to test the line's stability, with both vessels constantly communicating their statuses as dynamic, adaptive adjustments were made to replicate various real-life emergencies.
Upon completion of the exercise, a debriefing session was held and the lessons learnt shared with the fleet. Big thanks to the crew of Coral Knight for the good practice and experience!