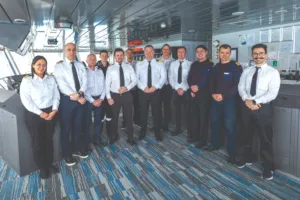 With our acquisition of the CMI group comes a third-party fleet comprising 12 expedition class vessels that are as tough and durable as they are comfortable and luxurious, allowing passengers to explore less travelled waters in safety and style.
Expedition class vessels are built to withstand the harshest environments and endure some of the most extreme conditions that nature has to offer when transiting waters as treacherous as the Drake Passage and the Denmark Strait. These vessels are designed for expeditions to the most remote locations at the very ends of the Earth. 
The newly built fleet of Infinity ships comprises the Greg Mortimer, Ocean Explorer, Ocean Victory, and the recently delivered Ocean Odyssey and Sylvia Earle. They are on the cutting edge of ship design and style; strong, capable, and comfortable for passengers, with luxurious cabins. From the impressive floor-to-ceiling windows to the well-furnished balconies, a view of the incredible and dramatic vistas outside is never out of reach.
They have the most up-to-date and concise safety technologies available for polar cruising and meet the criteria for Polar Class 6 and Ice Class IA. This starts with the return-to-port equipment, which repeats the propulsion system. In the event of any engine issues, the ship's systems and comfort remain intact.
The ships utilise Zodiacs (inflatable motor boats) to transport passengers to landing sites in the Arctic, Antarctica, and on remote islands, or for any transport between ship and shore, allowing them to operate and call at virtually any port in the world. Kayaks are available for adventurers who prefer a non-motorised experience in polar waters.
The immensely experienced expedition teams on board guide guests through the Arctic and Antarctica, enabling them to experience the wealth of varied wildlife ranging from polar bears to seals and penguins. Whales have even been known to circle the vessels while in anchorage, offering guests a rare glimpse of the ocean's most majestic creatures.