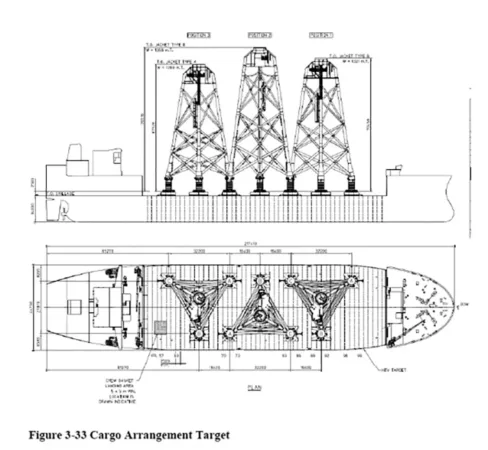 The Boskalis heavy transport fleet is known for its many special projects, from novel float-over installations to serving as floating dry-docks for supersized vessels. Now, increasingly, wind farm deliveries can be added to the fleet's project portfolio, and once again we are proud to be a part of it – as ship managers helping to shape a better maritime future.
MV Target is a semi-submersible heavy-lift vessel owned by Boskalis and managed by Anglo-Eastern out of our Hong Kong office. Between October 2021 and September 2022, the vessel was commissioned to support the construction of Taiwan's largest offshore wind farm project.
The Greater Changhua Offshore Wind Farm complex, owned by the Danish energy group Ørsted, comprises four sites in the Taiwan Strait, situated roughly 46 km west of Changhua County. Over the course of a year, the mid-sized Target was tasked with ten voyages between South Korea and the offshore site to load and unload a total of 30 wind turbine jacket foundations, which were vertically transported three at a time.
A jacket is a tall staging structure that is installed in the seabed, atop which the main infrastructure is affixed – in this case, a wind turbine. The jackets for this particular project were each around 70 metres in height and 1,150 MT in weight, and as with all special cargoes of such size, preparations to the vessel had to be made in order to safely and securely transport them.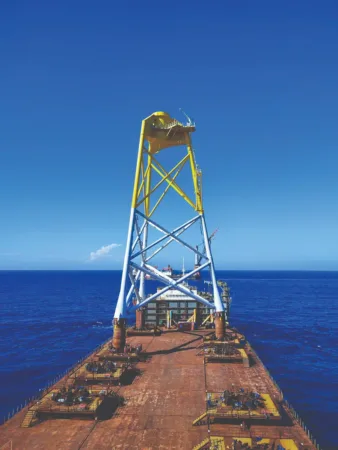 The project was a great experience but involved a number of challenges, primarily due to Covid restrictions and adverse weather conditions. 
For starters, the vessel had to be registered with Taiwan's CR Classification Society in order to operate in Taiwanese waters, but to do so a CR surveyor is required to physically inspect the vessel, yet this was not permitted. In the end, a remote inspection had to be arranged.
Similarly, crew changes in Taiwan were not permitted at the time, so the vessel had to divert to Japan to allow members to sign on and off, which delayed crew relief. Fortunately, the team on board Target were all very understanding and supportive. 
Adverse weather conditions in the Taiwan Strait also proved challenging. Cargo operations had to be regularly aborted due to strong winds and currents of up to 22 knots and 2.4 knots, respectively, which made it hard for Target to maintain its position and required distance. Despite the difficult conditions, all cargo operations were executed safely and without incident, thanks to the professionalism of the command and crew on board.
Well done and congratulations to Capt. Aleksandr Khaitov, Capt. Viktor Shevlyakov, C/E Konstantin Kazantsev, C/E Andrey Gustov, and the crew of Target for another project successfully executed and concluded! Special thanks also to senior vessel manager Apurba Verma, who supported the entire project from ashore, along with contributions from the Boskalis team. #OneTeam