The shipping industry is undergoing a technological revolution like no other. This age-old industry, which until the last decade was hesitant to modernise, is now embracing change and transformation at an unprecedented rate and scale, with the need for greater efficiencies, safety, and emissions reductions driving innovation.
There are more maritime start-ups than ever before, each offering unique and innovative ideas and solutions to help the industry become more efficient. Technologies like drones, robotics, artificial intelligence, machine learning, virtual/augmented reality, the internet of things (IoT), and blockchain are being harnessed to create a safer, more efficient, and more productive environment on board vessels.
Whilst not all of these new offerings will become mainstream, the sheer volume of new ideas coming into the market is an incredibly positive step forward for shipping.
To truly benefit from the plethora of available products and services, the mindset of organisations and end users needs to change. Without buy-in from management, crews, and other stakeholders, any change or solution is destined to fail. Therefore, as always, at the forefront of change, is the need to collaborate, engage, educate, and lead by example.
We recently set up a platform to gather ideas and suggestions from employees across the group to foster a culture of innovative thinking and continuous improvement. These ideas range from zero-cost or small-ticket items to those that may require substantial investment by the organisation to implement, but all are subjected to the same review process by a dedicated team.
While many important changes are happening across Anglo-Eastern, here are some that have captured our technological interest as we continue our journey of shaping a better maritime future.
PORTABLE DEVICES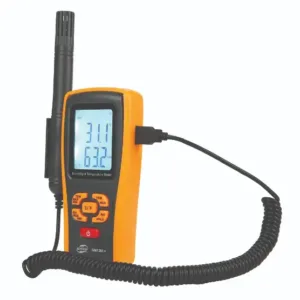 We are exploring the potential of technologies designed for shore-based usage to be used at sea, as a way to simplify day-to-day operations and processes on board and enhance efficiency. Examples include such portable devices and handhelds as digital temperature/humidity meters and sonar depth finders. 
These devices are to replace archaic whirling psychrometers and hand leads, which are still being used on board vessels in the 21st century. Such digital devices are not only quicker and easier to use, but more accurate, thus better for improving efficiency and safety for all on board.
ROBOTICS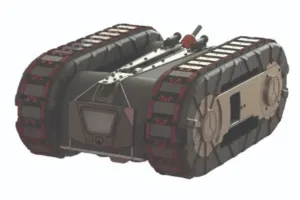 Robots have infiltrated nearly every industry in some shape or form, with shipping no longer an exception. Research institutes and companies in the technology, transport, and automobile sectors are collaborating to build robots that can aid in ship management, safety, inspections, and servicing.
Amongst these, remotely operated vehicles (ROVs) developed by Blueye (below) and robotic cargo hold cleaners by CLIIN (above) have caught our interest – and for good reason. Not only can these robots save time, enhance efficiency, and help us to reduce our environmental impact, they can also assist crews in carrying out certain operations with no risk to themselves.
AUTOMATIC VISITOR LOGS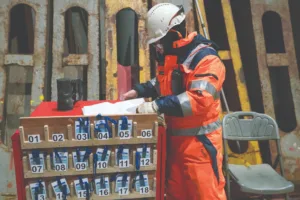 Ashore, we are moving to digital or biometric technologies to manage access and visitor logs to offices, yet crews are still required to manually record every visitor that steps on board, be it a vessel manager, auditor, stevedore or port official. Such records are maintained in a physical log book, using tally sheets to check for stowaways. 
We are now experimenting with infrared sensors installed at the entrances of our managed vessels that can automatically tally the number of people entering and leaving the vessel, so that the crew can concentrate on more important tasks.
RFID-BASED INVENTORY MANAGEMENT
Today's big retail companies sport sophisticated inventory management systems. Why should ships be any different? Ships are on course to become smart, tech-savvy, autonomous vessels. However, onboard inventory management is still as rudimentary as the original Windows operating systems.  
We are looking at using RFID smart tags, artificial intelligence, and machine learning for the inventory management of critical spares on board ships, and to help optimise operations and make better procurement decisions. By ensuring complete and accurate data on spare parts storage, consumption, and procurement, millions of dollars can be saved each year.
These innovations are just the tip of the iceberg. Shipping is changing and with the speed at which technology solutions are being created for the industry, it would not be wrong to term this period as a rebirth of one of the world's oldest industries – and we are proud to be a part of the technology revolution that is transforming shipping as we know it!