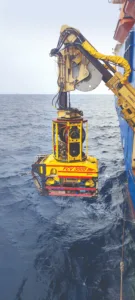 After a four-year lay-up, BOKA Atlantic – the only multipurpose offshore vessel (MOV) under Anglo-Eastern management – is finally back in action, with one project already under its belt this November and another one lined up in December. 
The Boskalis-owned BOKA Atlantic is a rare breed, being a 7,200-dwt multipurpose offshore vessel equipped with an advanced dynamic positioning system (DP3, with segregated redundancy), a remotely operated vehicle (ROV), a 140-tonne subsea crane, a helideck, and 65 cabins with a total of 98 berths.
Idle for four years, the truly multipurpose vessel remained in lay-up in Indonesia, only being 'reactivated' this July in Singapore to assist with a nearby gas field project in Malaysian waters. The project, for HESS Phase 4A in the Bergading gas field of the North Malay Basin, was to involve subsea construction, pipe-laying, and general offshore support.
However, reactivating a vessel after a four-year lay-up is no small feat, especially when there are so many specialised systems on board. Comprehensive testing of all systems and equipment needed to be performed, including dynamic positioning trials and a detailed FMEA (failure mode and effects analysis).
Once up and running, with the vessel's safe operations and performance tried and tested, BOKA Atlantic was ready for action!
The scope of the work involved installing concrete mattresses on the seabed as well as laying flexi-pipes for the transportation of gas. Both required the deployment of the DP3 system at all times for vessel stability, with subsea inspection and maintenance support provided by the ROV, a Fugro FCV 3000. The vessel was also commissioned to provide extensive offshore support to the various gas platforms in the field.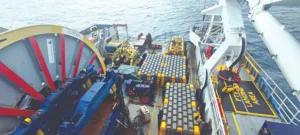 The project work was successfully completed on November 15th and was much appreciated by the clients, Sapura Energy and Mermaid Subsea Services. Well done to Capt. Benny Van Bockel, C/E Gerard Samol, and the mixed marine/project crew of 80+ on board for the excellent work and zero lost-time injury, and thanks to the reactivation team led by Anglo-Eastern's Billy Matheson and Vineet Kumar. Great job!