For the first time in our 50-year history, Anglo-Eastern took part in one of the world's largest cruise industry events: Seatrade Cruise Global.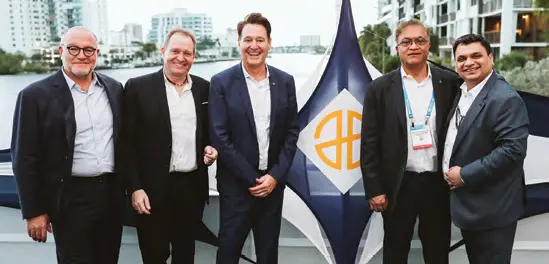 Held over three days towards the end of March in Fort Lauderdale, Florida, the mega event drew a crowd of 500+ cruise industry participants, of which we are now proudly one. Representing Anglo-Eastern's new cruise business at the event were Sanjay Sukhrani, head of ship manager Anglo-Eastern Cruise Management (AECMI), and Dietmar Wertanzl, head of cruise hospitality expert Anglo-Eastern Leisure Management (AELM). Joining them from head office were CEO Bjorn Hojgaard, COO Carsten Ostenfeldt, and group commercial director Niraj Nanda. Together, they formally unveiled the new branding of AECMI and AELM at the event through a well-attended press conference held in the afternoon of March 28th, followed by a celebratory cocktail reception with clients and guests on board a private yacht in the evening. "It has long been a dream of Anglo-Eastern's to one day join the cruise industry as a way to diversify our business, explore new opportunities, and to truly manage all types of vessels," said Bjorn Hojgaard at the event. "As one of the world's largest and longest-standing ship managers, there is a lot we can bring to the cruise industry, so this is a very exciting development for us and we are fortuitous to have been at the right place at the right time to realise our dreams with the acquisition of CMI."
From an individual company perspective, Dietmar Wertanzl expressed enthusiasm about joining Anglo-Eastern, seeing many opportunities for synergies and growth.
"We are now part of a much larger, stronger company and will have significantly broader scope," he said. "Anglo-Eastern is one of the world's leading ship managers and we are excited to have such a strong parent with more horsepower. We can now tie into different resources and receive support on a global scale, and with the cruise industry set to pick up as the appetite for travel continues to grow, the timing couldn't be better. It's a win-win."
In terms of positioning within the industry, Anglo-Eastern views itself as a niche player, with a focus on the expedition and mid-sized cruise segments, where novelty and innovation take precedence over mass operations. The group also sees itself as a partner for larger cruise companies that wish to enter these segments.
"This is indeed a new era for Anglo-Eastern and we are thrilled to be kicking it off at this year's Seatrade Cruise Global," said Niraj Nanda. "This is without a doubt the global cruise event of the year and we are honoured to be a part of it and look forward to participating in many more in the years to come. As we like to say, we're the new kid in town – and we're here to stay and make a difference."