Anglo-Eastern recently had the honour of introducing our extensive education and training facilities in Mumbai and Karjat to Capt. Arvind Natrajan of the International Chamber of Shipping (ICS). As the ICS senior marine advisor for crewing and training, as well as the chamber's project lead for the Maritime Just Transition Task Force, Capt. Natrajan had a specific interest in learning how we are preparing seafarers for the changes that lie ahead.
Accompanying Capt. Natrajan on the double site tour was Anglo-Eastern technical assurance manager and chief engineer Prasad Nayak, our own Just Transition project lead and in-house subject matter expert on alternative fuels, who was recently appointed chair of the ammonia fuel group of The Society for Gas as a Marine Fuel (SGMF).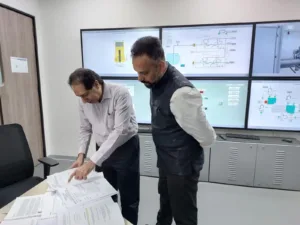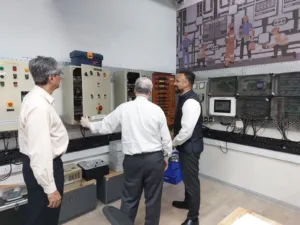 Our flagship Anglo-Eastern Maritime Training Centre (AEMTC) in Mumbai, which recently relocated to new premises, was the first establishment to be visited. There, Capt. Natrajan was shown the new auditorium, classrooms, labs and other training facilities, including the various state-of-the-art simulators we operate at the centre to broaden and refresh the skills of our seafarers.
Highlights included the training centre's impressive 360-degree navigation simulator, latest full mission liquid cargo simulator featuring a module on LNG bunkering, full mission engine room simulator, and the dedicated onsite partner facilities of MAN PrimeServ, WinGD and Wärtsilä.
Capt. Natrajan was suitably impressed by both AEMTC Mumbai's comprehensive training facilities as well as the breadth and depth of its course offerings. He also greatly appreciated the knowledge and relevant experience of faculty members, with whom he discussed current issues under discussion within the various committees of the International Maritime Organization (IMO).
A day after touring our training facilities for seafarers, it was time to visit our pre-sea academy for cadets, where tomorrow's seafarers are being shaped to lead a better maritime future. The journey from Mumbai to the Anglo-Eastern Maritime Academy (AEMA) in Karjat may be a long one by car, but well worth the ride, as upon arrival, guests are always treated to a red-carpet welcome and an oasis of greenery and biodiversity.
Besides the expansive grounds and many plants, trees and sustainability initiatives, AEMA is home to numerous training facilities, from a mock-up navigation bridge, functional tanker deck section, working aloft/overside facility and firefighting unit to various simulators and even virtual reality-based training. AEMA also possesses two enormous machine workshops on campus: one exclusively for cadets, and one for seafarers.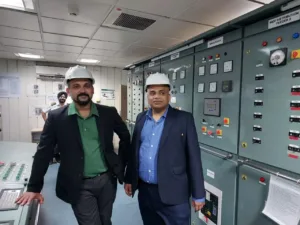 Impressed by the world-class facilities and education on offer, Capt. Natrajan commended the academy on its training infrastructure and future focus in preparing the next generation of seafarers. In his address to cadets, he also spoke about the ICS and the work that it does to advocate the interests of shipowners before the IMO, as well as career pathways beyond sailing.
Rounding out the session was Mr Nayak, who discussed shipping's push to net zero and the role of alternative fuels in global decarbonisation efforts, including the possibility of nuclear ships in the future.
Touring AEMTC Mumbai and AEMA proved an invaluable experience for Capt. Natrajan, who is leading a Maritime Just Transition Task Force working group aimed at defining the core competencies required for handling alternative fuels. This is to address the projected shortcomings of nearly 800,000 qualified seafarers who will be needed to work on more advanced ships in the coming years to achieve the IMO's 2030 checkpoint, as per its revised greenhouse gas emission strategy that was adopted at this July's MEPC 80.
About the Maritime Just Transition Task Force
Founded by the ICS, ITF, UNGC, ILO and IMO, the Maritime Just Transition Task Force is a global sectoral task force dedicated to a "just transition" and seeks to strengthen and coordinate collaboration between governments, industry, workers, academia – and their representatives – towards a safe, equitable, and human-centred approach to the transition towards a decarbonised shipping industry.