Seafaring is still very much a maledominated profession, as are technical roles to a large degree, so pursuing an engineering/technical career at sea is even less common for women – and potentially more challenging.
Yet we have had several success stories in that regard, with those numbers continuing to grow after the recent joining of our first female chief engineer to sail in our managed fleet and confirmation of our first female electrical technical officer, not to mention our first female ratings as follows.
C/E POOJA GOSAVI C/E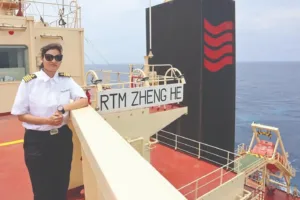 Pooja Gosavi joined Anglo-Eastern this July, becoming our first female chief engineer to sail in our managed fleet. She previously sailed with a number of LPG tankers, including as chief engineer, with the intention to transfer to our dual-fuel fleet in the near future. Until then, she is sailing in the RTM fleet on board the bulk carrier MV RTM Zheng.
Though the first chief engineer to sail in our managed fleet, it is worth noting that C/E Gosavi is not the first chief engineer at Anglo-Eastern. In 2019, Joanna Kwok became the first woman to qualify as chief engineer in the group – and, indeed, in the whole of Hong Kong. Presently, C/E Kwok is working in vessel management for the Technical division in Hong Kong, and is joined ashore by C/E Supriya Doke, who is a senior IT analyst with us and previously a member of our AngloEastern Fleet Performance Centre in Mumbai.
ETO PRIYANKA SEN
Congratulations to Priyanka Sen (pictured in page banner) on becoming our first certified female electrical technical offer upon passing her exams this July. ETO Sen had long dreamed of joining the merchant navy, as she aspired to do something different and to travel the world. Fortunately, her family was supportive of her decision, though it was not a typical career choice for women in her region and a string of bureaucratic obstacles during her college years made it a challenge to pursue her dreams.
But pursue them she did, relentlessly, until she was able to graduate from her course, only to run into the next challenge: employment. Many companies were simply not interested in hiring a female electrical graduate, but she refused to return home until she could find a job. The weeks of unemployment soon turned into months and she began to despair of ever finding a job, until she finally caught a lucky break – a call from our Delhi office.
"I got a call from Anglo-Eastern's Delhi office for which I immediately left for an interview. That was the turning point in my life and I was very thrilled when they allotted me a vessel. After a lot hurdles and struggles, finally this golden day came in my favour and I joined my first vessel on 30th January 2021. Now, I'm the first certified female electrical technical officer at Anglo-Eastern," said ETO Sen with pride. "Thank you to my family and friends, but especially thank you to Anglo-Eastern – the only company that gave me a chance and supported me through my tough times. I am proud to be a part of the Anglo-Eastern family."
FIRST FEMALE RATINGS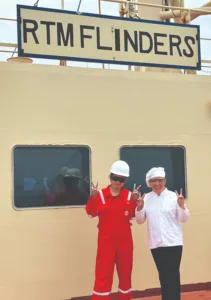 Our cargo division (ex cruise and offshore) recently welcomed its first two female ratings: deck trainee seaman Sahara Shiela Tanawan and second cook Nora Garcenila. Both Filipino women are presently sailing in the RTM fleet, like C/E Gosavi – a fleet that is very much committed to enhancing gender diversity on board. Their first ship with us is the bulk carrier MV RTM Flinders, which they signed on in July.
With these examples, we hope to inspire other women and young girls to consider a career at sea, and possibly an engineering/technical one – and for those already at sea, to keep going, aim higher, and don't give up on your dreams!