We were extremely proud to officially launch Anglo-Eastern Women of Seas (AWOS) during the Mumbai Conference, with a one-day workshop for female seafarers and cadets on February 22nd.
Altogether, the workshop was attended by 35 female seafarers and cadets, including those currently studying at our academy – all of whom were also invited to take part in the Mumbai Conference as a whole to help give visibility to women in the industry.
A traditional lamp-lighting ceremony was held, after which opening addresses were delivered by group managing director of Marine HR Capt. Vinay Singh, chief HR officer Michael Sandaluk, wellbeing general manager Priyanka Gupta, and senior manager/PEX lead Marlene Riise.
The Wellbeing team then gave a brief overview of its various initiatives, which was followed by an insightful six-member panel discussion led by Ms Gupta on the issue of gender 'mainstreaming', which saw challenging questions asked of the panellists to understand different perspectives and the change that is underway.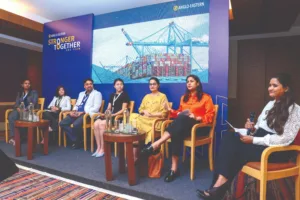 The panel comprised an interesting mix of both internal and external professionals: Sanjam Sahi Gupta, director of Sitara Shipping and founder of Maritime SheEO; Abheepsa Gupta, senior commander of B787 Dreamliners for Air India; Joana Kwok, the first female chief engineer in Anglo-Eastern and Hong Kong; Supriya Doke, chief engineer and AEFPC team member; Dr Delna Shroff, in-house senior psychologist; and Anand Rai, Marine HR manager.
After lunch, group communications manager Melissa Otto delivered a powerful and thought-provoking talk on gender bias and stereotypes, with special focus on the words and language we use and why it matters to think before we speak. A couple of lighter segments then ensued before Brenda Hojgaard, entrepreneur and wife of CEO Bjorn Hojgaard, was invited to deliver the closing remarks.
The overall feedback was very positive, with many participants inspired by the talks and delighted to have the opportunity to share and speak openly amongst other women like them. With more initiatives and events such as AWOS and this workshop, we hope to strengthen our DEI efforts, whilst building a meaningful community for women at Anglo-Eastern.